Home
/
Easy Art Projects for Toddlers
/ pasta necklaces for children
Home
|
Beading & Jewelry Making
|
Clay Basics
|
Paper Crafts
|
Home Decor
|
Projects with Fabric
|
Easy Crafts For Kids
|
Arts & Crafts Ideas
Pasta Necklaces for Children
by Jackie Villegas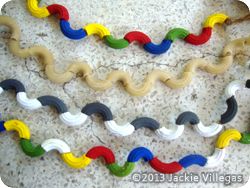 Pasta necklaces.
Kids love working with objects bright and beautiful. Girls, in particular, love making things they can use when playing dress-up. Pasta necklaces give children something to tinker with that is both challenging (turn it into a math lesson) and relaxing (sort of like shelling peas on the porch).
This is a wonderful threading activity for kids that develops their dexterity and gives them the opportunity to hone their problem-solving skills. The smaller and curvier the pasta you use, the more challenging it is for little fingers to thread. Let them figure out how to make the string get through the pasta easier and let them use their creativity to create different color combinations and patterns.
You can color the pasta in this activity with paint or with food coloring. Note that food coloring stains, so wear rubber gloves and aprons and have lots of old rags at hand.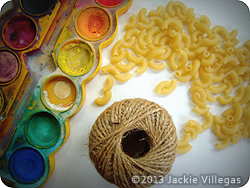 Materials for making pasta necklaces.
Materials needed to make pasta necklaces
Any kind of pasta with a hole (macaroni, penne, fiori, ziti, ditalini, rigatoni, whatever you have in the pantry)


String (you may use yarn, twine, braided cord, old shoelaces, elastic thread, strips of cloth, and old chain necklaces)


Paint (acrylic, poster, watercolor) or food coloring (gel or liquid)


Paint brush


If using food coloring, you will also need rubbing alcohol, large Ziploc bags or glass jars with lids, and paper towels


Glue or tape


How to make a pasta necklace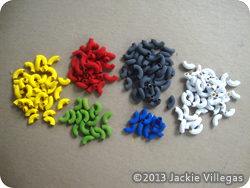 Pasta can be colored with paint or food coloring.
1. First, you must color the pasta. If you're using paint, just give the children some brushes and a little bit of water to thin the paint down and let them color the pasta. Leave the pasta on top of some newspaper to dry.
2. If you're going the food coloring route, place the pasta in a plastic baggie or glass jar along with a tablespoon of rubbing alcohol and around 10 drops of food coloring. Don't fill up the bag or the jar. Leave space for the pasta to move around.
3. Seal the bag or the jar tightly and shake until the pasta is coated with the food coloring.
4. Let the pasta sit for a few minutes. The longer the pasta soaks in the food coloring, the darker the colors will be. You can even leave them in there for an hour to get really dark colors. Use a glass jar for this instead of a baggie.
5. Once you have the color you want, place your pasta on a tray lined with paper towels and leave them to dry.
6. Repeat this process for the other colors you will be using.
7. Once all your pasta pieces are dry, it's time to start stringing! Get some string and measure the length you will need by wrapping it around your child's neck (or your own, depending on who the necklace is for).
8. Knot one end of the string so the pasta won't fall off.
9. Use glue or tape to make the other end thinner and to keep it from fraying.
10. Now here's the fun part! Let your children add more pasta until they have strung the desired length. Count, identify colors, practice addition and subtraction, and experiment with color patterns as you make the necklace.
11. Tie the ends of the string together, and voila! Instant fashion accessory!
You can also use the procedure above to make bracelets, anklets, and crowns or headbands. You can even turn them into charm necklaces or bracelets by adding charms and beads.
Related Articles
Paper Mosaic Animals for Children | 4 Easy Art Projects for Toddlers | How to Make Your Own Play Dough | How Clay Modeling Can Stimulate Your Child's Mind