Home
/
Projects for Children & Toddlers
/ how to make your own play dough
Home
|
Beading & Jewelry Making
|
Clay Basics
|
Paper Crafts
|
Home Decor
|
Projects with Fabric
|
Easy Crafts For Kids
|
Arts & Crafts Ideas
How to Make Your Own Play Dough
by Jackie Villegas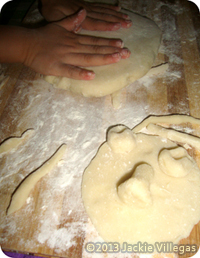 Playing with homemade play dough.
Play dough is a powerful developmental tool that provides great movement, sensory, and coordination activities for toddlers and kids of all ages. It exercises the fingers and hands, encourages the use of creativity and imagination, and even helps children release tension.
Homemade play dough is inexpensive and fun to make. Unlike the store-bought version, it is non-toxic and all-natural, it lasts a long time, and it doesn't turn into a yucky brown ball of goo when mixed together. You can even let your child help in the measuring, pouring, mixing, and kneading, and turn the process into a learning opportunity.
The cooked play dough recipe below produces a better texture than uncooked versions. It is velvety smooth and rubbery, somewhere between brand-name molding clay and pie dough. It smells great (even without the scented oil) and is great for rolling, cutting, and pinching. The oil keeps it from becoming too sticky, but if it does, just add more flour. It keeps well if kept in a Ziploc bag or a sealed container in the fridge. You can use it warm or cold or at room temperature for a more sensory experience.
Ingredients for making homemade play dough
2 cups of flour
1 cup of salt
2 cups of warm water
2 tablespoons of vegetable oil
1 tablespoon of cream of tartar (optional)
all-natural food coloring (optional)
scented oils (optional)
How to make your all-natural play dough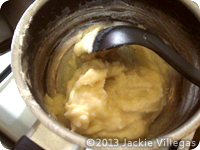 Cooking the play dough.
In a big bowl, combine the flour, salt, and cream of tartar. It's not really necessary, but cream of tartar does make play dough more elastic. But don't worry if you don't have it. The play dough will turn out just fine. Next, transfer the dry ingredients into a big pot and add 2 cups of warm water. Add the oil. Stir the mixture over low heat until it resembles mashed potatoes. Keep stirring until the entire thing pulls away from the sides of the pot and clumps up in the center.
At this point, you can check the dough for stickiness by pinching off a small piece and rolling it between your fingers. Remember that it will dry out some more once it has cooled. Dump the dough out onto a floured wooden chopping board or wax paper and let it cool.
Kneading the play dough.
Once it has cooled, you can add color and scent to your play dough. First, divide the play dough into smaller balls. Add a drop or two of food coloring to each to make different colored balls of play dough. You can also add a drop or two of scented oil and some glitter. Next, knead the dough until it becomes smooth. Add more flour if the dough is too moist or sticky.
Keep your play dough in an airtight container and it will keep for weeks, even months. This cooked play dough can be baked or left out in the sun to make hard dough figurines and ornaments, and then painted and embellished. You can also put your play dough in little jars and give them away as gifts.
Related Articles
4 Easy Art Projects for Toddlers | How Clay Modeling Can Stimulate Your Child's Mind