Home
|
Beading & Jewelry Making
|
Clay Basics
|
Paper Crafts
|
Home Decor
|
Projects with Fabric
|
Easy Crafts For Kids
|
Arts & Crafts Ideas
How Clay Modeling Can Stimulate Your Child's Mind
If you want your child to develop an interest in clay modeling then now is the time to start. Clay modeling can be a very fruitful and fun way to learn techniques and instill an appreciation for fine arts in your child. If you are wondering how clay modeling is good for your child, then here are some top reasons.
Clay Modeling for Creative Expression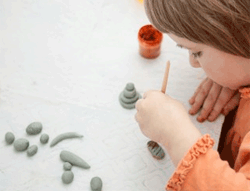 There are two sides to our brains, namely left and right. The right side is perceived to be more creative and artistic while the left side is found to be more digital and good at memorizing facts. While both are important, our education systems often tend to focus only on the left side of the brain. The right side often gets neglected as a child grows up. This is where clay modeling can help. Using clay to make figurines and objects can help a child find a means of expressing their inner emotions and thoughts. It acts as a outlet of sorts and prevents build-up of negative emotions and feelings in the child. The result is a child with a healthy mindset.
Clay Modeling for Social Interaction
When you enroll your child in clay modeling classes, your child gets to interact with other children. This helps facilitate more social interaction and your child is able to learn skills needed to adjust and socialize with others. This is a crucial element that is needed in the formative years of a child and is very useful even in future when the child is grown up. Often, children who are very reserved or shy have a low opinion about themselves and do not have adequate confidence. When you enroll your child at a clay modeling session your child will socialize with others and realize his/her own strengths and weaknesses.
Clay Modeling for Problem Solving
Another aspect of your child's development is the ability to solve problems on his or her own. This is another vital aspect of human behavior. Clay modeling entails thinking up a project, planning out the implementation stages and deciding on which colors and textures to use. All of this, though on a smaller scale, encompasses the basic aspects of problem solving. These skills can be very useful in later years and can play a major role in your child's career as well.
Clay Modeling for Children with Autism
In many parts of the world clay modeling is being used as a therapy of sorts. Autistic children are finding that by using clay they are able to focus their attention better at the project at hand. Most autistic children find it difficult to focus on one thing at a time and their mind is always wandering. Hence, enrolling a child in such clay modeling classes can help them improve their focusing skills. Even if your child is not autistic, clay modeling can help him or her improve concentration.
Thus, as you can see, clay modeling is no child's play, although it looks to be one. It is a fun and creative way to initiate your child into new territories.
Related Articles
Bead Patterns for Cognitive Development | How to Make Your Own Play Dough | Clay Basics | Polymer Clay Basics