Home
/
DIY Home & Garden Crafts
/ Make a Plastic Bottle Bird House
Home
|
Beading & Jewelry Making
|
Clay Basics
|
Paper Crafts
|
Home Decor
|
Projects with Fabric
|
Easy Crafts For Kids
|
Arts & Crafts Ideas
How To Make A Plastic Bottle Bird House
by Carly Van Heerden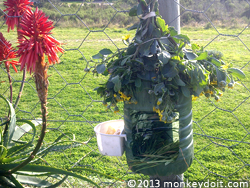 A plastic bottle bird house.
If you love birds you have probably already considered making the plastic bottle bird feeder featured in the last article. The bird feeder attracts numerous birds and it's great to see them picking away at the seeds between the mesh.
But now, what about a little home for some of them? In this article you'll be shown how to make a very simple bird house using a plastic bottle. Because a single bird house costs next to nothing to make, you could even choose to make a few of them to place around your garden where you please.
While weavers like to hang their nests from trees, other birds like pigeons and doves will usually search for the perfect spots to make their nests. You may even find you have a pigeon nesting in a drain pipe somewhere around your home, or under the veranda.
The alternative to them nesting in nooks and crannies around your home is to provide a place for them that they will feel safe enough to live in while still going about their daily business.
This plastic bottle bird house is water-proof, well-disguised and can easily be accessed by the bird who chooses to use it as their lodging. Let's take a look at how to make one.
Materials Needed To Make A Plastic Bottle Bird House:


1. 1 x 5 liter/10.5 pint plastic bottle with a lid
2. Some string - about 1.5 meters/60 inches in length
3. Outdoor paint - an earthy color like green or brown
4. A knife
5. A paint brush
6. Leafy branches from your garden
7. Grass to make a bed inside the bird house
8. A bird bowl with hook arms (optional). These you can purchase from a pet shop for less than a dollar
As you can see, all of these materials are items that you will more than likely have lying around your home.
How To Make A Plastic Bottle Bird House Step By Step:
1. Cut a large opening from one of the sides of your plastic bottle. If you are helping your child to make this bird house, please do the cutting for them.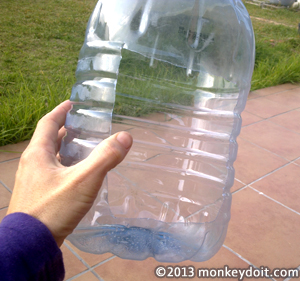 2. Paint the outside of your plastic bottle with whichever color you like, keeping in mind that the more natural the bird house looks, the more chance there is of it being utilized. Bright blue or purple may confuse a bird looking for their forever home. Leave the paint to dry entirely before you continue.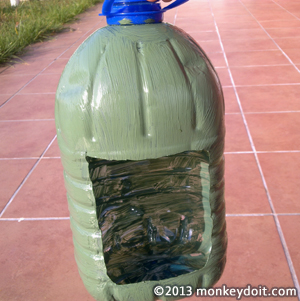 3. The following step is optional, but it will help to attract birds to the house. First measure the distance between the hook arms of your bird bowl. Once the paint on your bottle has dried, pierce two holes in one side of the bottle, toward the bottom of the bottle, making the distance between the holes the same as the distance between the hook arms of the bird bowl. Then, attach the bird bowl to the bottle by hooking the hook arms into the holes. Once your bird house is complete it will be a classic B + B!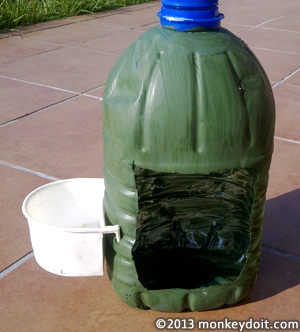 4. Search your garden for leafy branches which you will use to make the roof of your bird house. Remember that you may want to replace the leafy branches once in a while, when they dry out and wither.
5. Using your string, tie the leafy branches together as though making an upside-down bouquet of flowers, so that they form a leafy umbrella or 'A frame' roof that will fit over the top of the bottle.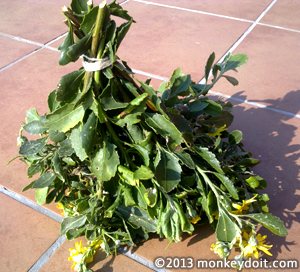 6. Using a sharp knife make two holes some distance apart in the back of the plastic bottle, towards the top of the bottle. Thread a longish piece of string through the holes. This you will use to secure your bird house to a pole or tree trunk in your garden.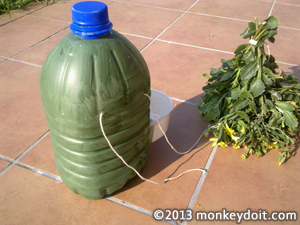 7. Place the 'A frame' roof on top of your bird house and secure it (not too tightly) with string as seen in the image below.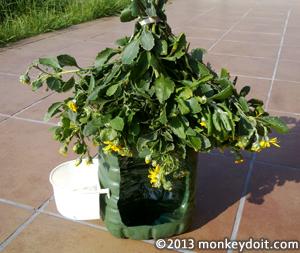 8. Finally, secure your plastic bottle bird house to a pole along your fence, near to some flowers as seen in the image below. You could also use a longer piece of string and tie it to a tree in your garden. To make a luxury bed inside, use a few handfuls of fresh grass. This you can also replace every now and again, unless of course the bird is nesting.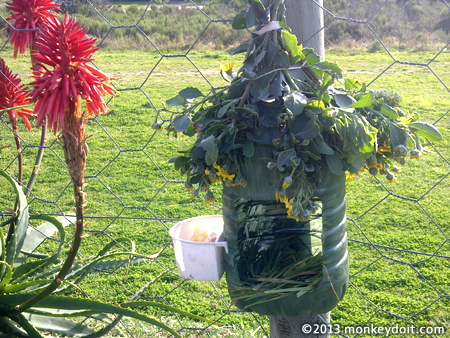 And there you have it - the perfect comfy home for birds! You can fill the bowl to the side with bread, seed or fruit which will attract the birds initially.
This is a great project for children, and to see their delight when the first visitor approaches their new house to investigate it is extremely rewarding.
Have fun!
Related Articles