Home
/
DIY Home & Garden Crafts
/ Bird Feeder from Plastic Bottle
Home
|
Beading & Jewelry Making
|
Clay Basics
|
Paper Crafts
|
Home Decor
|
Projects with Fabric
|
Easy Crafts For Kids
|
Arts & Crafts Ideas
How To Make A Bird Feeder From A Plastic Bottle
by Carly Van Heerden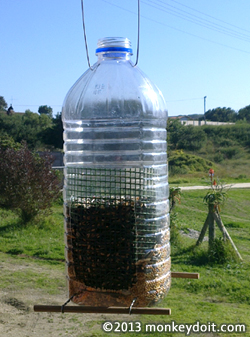 A bird feeder made from a plastic bottle and simple materials.
The birds and the bees, the flowers and the trees, we need them all. They do, after all, make life worth living! Flowers attract birds and so does bird-seed. But not all birds like to eat seeds from the ground, especially if the house they are dining at is home to a number of dogs or cats. Having a bird feeder is a great asset in any home and having birds flying around your home, tweeting to each other, is the pleasing result.
The great thing about this plastic bottle bird feeder is that it can be made from materials that you more than likely have lying around your home. It's a great project and seeing your feeder hanging from your porch, and the first bird to use it, is wonderful. Typically your camera is either not charged or it's in one of the other rooms when you want to take a picture of your first visitor! But taking a snapshot in your memory works just as well.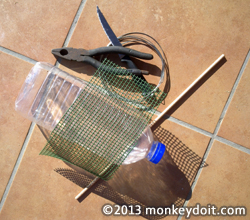 Materials Needed To Make A Plastic Bottle Bird Feeder:
1. A plastic bottle - 1 or 2 liter/2 or 4 pint
2. A sharp knife
3. 1/2 a pencil-thick dowel stick
4. Thin bendable wire - roughly 1 meter/40 inches in length
5. A pair of pliers
6. A cereal box-sized piece of plastic covered wire mesh (relatively small holes/squares)
If you don't have these materials around your home, you could take a trip to a builder's warehouse in your area to ask if they have scraps of these (wire, dowel sticks, mesh) lying around.
How To Make Your Plastic Bottle Bird Feeder Step By Step:
1. Cut out two sides from your plastic bottle with a sharp knife, as seen in the image below. This will work just as well if you are using a round bottle. Do not make the holes as large as the height of the bottle; rather cut from the middle down.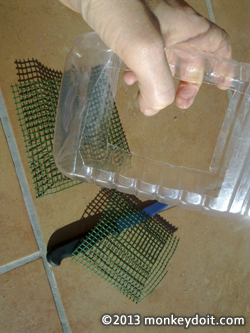 2. Cut your wire mesh to size by holding the piece of mesh over the holes you have cut into your bottle, to calculate the correct size for each piece of mesh. You will need two squares or rectangles (depending on the shape and size of the holes in your bottle). Remember to measure the mesh a few centimeters/inches beyond the edges of the holes. Your wire mesh will simply slide through the holes towards the end of the project. The extra width and height will keep the mesh pieces secure, preventing them from slipping through the holes.
3. Cut (or break) your thin dowel stick into two smaller pieces that will serve as perches for your feeder.
4. Cut and then wrap a short piece of wire (roughly 15 cm/6 inches) around one end of one of your shorter sticks, then twist the ends of the wire together with your pliers to make a firm 'rod' (as seen in the image below) that will be inserted into the bottom of you feeder.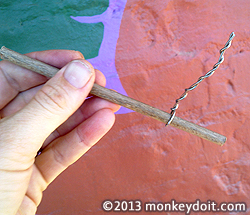 5. Make two rods per perch, attached to either ends of the perches.
6. Make two tiny holes in the bottom of your plastic bottle, on either side, with you sharp knife (or a skewer) then insert the perch rods into these holes, as seen in the image below. Keep the rod holes small and tight or else there will be too much play/movement in the perch.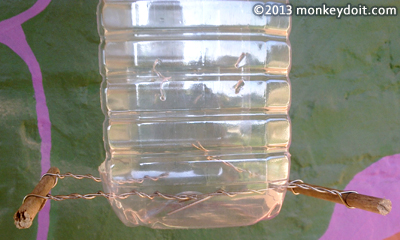 7. Make two tiny holes in the very top of the bottle, on either side of the neck of the bottle.
8. Cut a 50 cm/20 inch piece of wire and bend it in half. Using your pliers, bend the very ends of either end of the bent wire to make hooks. Hook your holder into the top of you feeder, as seen in the final image.
9. Very carefully push your wire mesh squares/rectangles through the big holes/gaps in the sides of your bottle, to make two mesh windows. You will find that the wire mesh can bend, so you will be able to shape each piece to the shape of your bottle so that they fit snug. You can choose to secure the mesh with a small piece of sticky tack if you feel that the mesh just doesn't want to cooperate!
10. Pour your bird seed gently through the top of your bottle. The weight of the seeds will push the mesh windows against the insides of the bottle, securing them firmly. Obviously you should do this outside as the seed tends to fall all over the place!
11. Finally, hang your feeder from a hook on your porch, or wherever else you would like to hang it from (you could hang it from the branch of a tree in your garden if you like).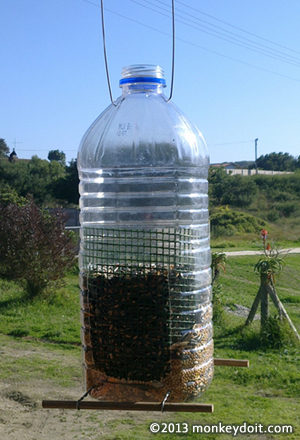 12. Wait for the birds to pluck-up the courage to investigate this odd-looking device that renders free food!
And there you have it. This project takes roughly an hour to complete, but what you've made should last forever. It's a great task for older children to tackle, too, but obviously they should be supervised by an adult when working with a knife.
Your children could also choose to make a little pocket money on the side, by making bird feeders for neighbors and friends. Remember, bottles come in various colors, so you could choose a color that matches your home or compliments your flower patch.
Have fun!
Related Articles