Home
/
projects for children & toddlers
/ easy art projects for toddlers
Home
|
Beading & Jewelry Making
|
Clay Basics
|
Paper Crafts
|
Home Decor
|
Projects with Fabric
|
Easy Crafts For Kids
|
Arts & Crafts Ideas
4 Easy Art Projects for Toddlers
by Jackie Villegas
It is often too tempting to just turn on the TV or hand your child an iPad when you have to concentrate on something or need a moment of quiet. The next time you need to keep your toddler busy, guide him in doing an age-appropriate art activity and soon he'll be able to do it on his own. Simple art projects help toddlers develop their creativity and fine-tune their motor skills, and also teach them to appreciate art.
Keep toddler art activities as uncomplicated and unstructured as possible. Put down old newspapers or drop cloths to contain messes and always use non-toxic art supplies. Keep it simple and economical. These 4 activities can be done with stuff you already have around the house.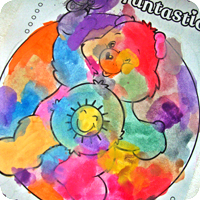 A watercolor painting activity.
Watercolor painting
There is a wide variety of watercolor activities for toddlers. You can create different effects by painting with materials such as cotton balls, tissue paper, and plastic wrap; or by painting over crayon, glue, bubble wrap, and melted wax. You can paint on wood, paper, cardboard, and fabric. Watercolor paintings can be sprinkled with salt, blown on with a straw, and marbled. You can let your child paint on a blank canvas or in an activity book. The possibilities are endless! Just give your toddler a set of watercolor paints and a paintbrush, and let him discover the joy of painting.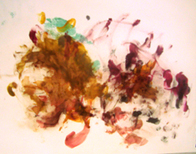 Toddler finger painting.
Finger painting
A favorite pastime of children everywhere, finger painting helps little ones develop their fine motor skills and is a good sensory experience. All you need for this activity is some finger paint or thick paint. Place some on top of a sheet of butcher paper or on a table covered with plastic, and let your toddler explore and manipulate it with his hands. Use non-toxic paint or make your own edible finger paint at home.
Wet chalk drawing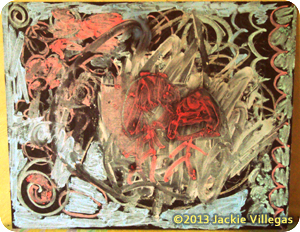 A wet chalk drawing.
Chalk looks and feels completely different when it is used wet. It is less dusty and leaves less of a mess. Wet chalk is easier to blend and leaves you with drawings that have richer colors and softer lines than those done with dry chalk.
For a wet chalk drawing, prepare your chalk sticks by placing them in a glass or bowl of water. Leave one end of the sticks dry so they don't fall apart when held. After a few minutes, remove the chalk pieces and place them on a level surface to dry. When the chalk is ready, let your toddler draw with it on a sheet of drawing paper or a chalkboard. Wet chalk can also be used on the sidewalk and on walls. When your child is done, leave the artwork to dry. You can switch this process up by using dry chalk on wet construction paper or by getting an area of the sidewalk wet and then letting your child drag the chalk through it to draw.
Leaf art
A leaf art project.
This is a cool way of getting children interested in nature and introducing them to the beauty and diversity of plant life. A perfect activity for fall, leaf projects are eco-friendly and make beautiful pieces of art.
There are countless art and craft projects you can do with leaves. You can make leaf rubbings, pressed leaves, and plaster leaf castings. You can make leaf people, leaf garlands, and wreaths. You can even use leaves for printing and stamping.
One of the easiest leaf art projects is leaf collages. Take your toddler out for a stroll to identify and collect leaves. Back at home, get some sturdy paper or card stock, glue, and watercolor paint or markers. For the tree collage pictured here, paint or draw the trunk first and then let your toddler glue the leaves all over the top.
Remember that with toddler art activities, the emphasis is on letting your child have fun, not on creating artwork that will be recognizable to others as "art". The outcome doesn't have to be perfect or even presentable. It's all about the process, not the product.
Related Articles
How to Make Your Own Play Dough | Paper Mosaic Animals for Children | Pasta Necklaces for Children | How Clay Modeling Can Stimulate Your Child's Mind