Home
/
Projects with Fabric
/ soft stuffed sculpture
Home
|
Beading & Jewelry Making
|
Clay Basics
|
Paper Crafts
|
Home Decor
|
Projects with Fabric
|
Easy Crafts For Kids
|
Arts & Crafts Ideas
Soft Stuffed Sculpture
by Jacqueline Gikow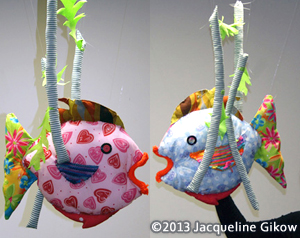 Instructions are provided below for making a soft stuffed sculpture.
Soft sculpture is made from fabric, foam rubber, or other supple material to create 3D objects that may stand for real or abstract things. Claes Oldenburg and Louise Bourgeois are modern artists who are most known for creating soft sculpture. The attraction of soft sculpture is that it is very malleable. It is possible to construct soft sculpture as complex as the artist's ability. Fabrics can vary from unusual to ordinary.
Soft sculpture objects bring immediate delight to artists and observers alike. It is a reasonably priced, amusing and satisfying craft to become a soft sculpture artist. Explore different ideas for creating your own realistic, full-scale, moving or inert soft sculpture items. Increase your abilities and get a feeling of success as you work out soft sculpture objects for you and others to enjoy.
The liveliness of soft sculpture is exhibited by the tremendous variations of form material and ideas offered by stuffed fabrics. The act of stuffing is like modeling and carving; it is both an additive and subtractive processes. You can create forms and assemble them; if they don't work, you can make them shorter, thinner or remove them altogether. Alterations are relatively simple.
The variety of materials available, the textures, colors and patterns help make the artist's palette more versatile than many others. The tactile quality is and essential property of soft art. People should note the wide variety of materials that are used, including natural and synthetic cloth and their combinations. Artists may use textile paints or silkscreen to emulate a real object. Or they may create the illusion of an object by sewing fabrics and details with needle and thread.
To build a soft sculpture, you will require an assortment of materials that can be found at any local craft or art store. Materials needed include fabric of different blends, polyester filling, newsprint paper, thread and needles, and ornamentation materials such as glitter, tinsel, gems, buttons or raffia.
General Techniques
First, make a decision on what shape you would like your sculpture to have such as an animal, toy or flower shape. Since this is a three dimensional shape, the object will need a front and a backside, which can be drawn out on the fabric. Decorations could be painted onto the fabric and then the fabric can be ironed between two pieces of parchment paper. You can then cut out the design, sew it together and stuff it. Finally decorated the sculpture with details selected for that purpose.
Instructions for making a soft stuffed sculpture
1. Design a shape for your soft sculpture. Cut out the pattern from some newsprint. Attach the sculpture piece designs to the fabric and cut out.
2. Stitch each shape with right sides of the fabric together. Trim the seams to 1/4-inch and cut around all the curvatures and corners.
3. Turn the fabric right side out and fill the corners and small areas first in order to attain the correct shape. Use a pointed wood dowel to fill in any sharp areas. Stuff the each part firmly. Fit 14-gauge wire into any bendable piece of the sculpture. Round the wire ends to prevent poking through the fabric. Whipstitch pieces closed each open part.
4. Once all parts are stuffed and stitched, sculpt your remaining details using the same sewing technique.
Related
Make a Quilted Potholder | Painting on Fabric | Fabric Painting on Silk