Home
/
Projects with Fabric
/ painting on fabric
Home
|
Beading & Jewelry Making
|
Clay Basics
|
Paper Crafts
|
Home Decor
|
Projects with Fabric
|
Easy Crafts For Kids
|
Arts & Crafts Ideas
Painting on Fabric
by Jacqueline Gikow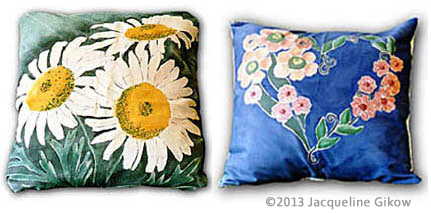 The choice of which textile paints to work with is a personal one. And as with most art supplies, when you buy textile paints you get what you pay for. If you're a beginner, you might feel that you're "just experimenting," and you may think it makes sense to start with lower quality supplies. However, you will find it hard to learn from using inexpensive supplies simply because they are not capable of producing the vibrant results you're aiming at.
Textile Paints
I usually use paints designed specifically for textile on my fabric pieces. Manufacturers have paid attention to many characteristics that result in excellent effects when painting on fabric. All textile paints are water-base acrylics, which means that not only can they be diluted and mixed with water, but they can also be cleaned up with soap and water. Acrylic paints also tend not to emit fumes.
I divide textile paints into four categories: thin, transparent, opaque, and metal. I tend to use opaque paints the most because they are more flexible in the effects one can get. Opaque paints have body and at their full thickness you can't see through them. They will probably cover any existent paint you have applied and they can be used on dark fabric.
Artist Acrylic Paints
Many textile artists use acrylic paints on their fabric with great success. The secret to converting traditional acrylics to fabric paint is a product called textile medium. Textile medium makes the acrylic paint more fluid with the result that it's easier to apply and less likely to crack when dry. The painted fabric is also more flexible. I am most familiar with Liquitex and Golden acrylic paints and mediums. Golden has the largest variety of colors and medium. Both brands include a variety of mediums recommended for use with textiles depending on the technique and results you desire.
If you choose to use artist acrylic paints on fabric, remember that some paints require that the painted fabric be heat set and some do not. Follow the individual manufacturers' directions.
In addition to the paints of each product, I recommend several additional products for some of the techniques you work with. The additions I recommend include Liquitex Fabric Medium and Flow Aid, and Golden's GAC 900 fabric/textile medium and Silk Screen Fabric Gel. If you are going to buy only one textile medium, I recommend the Jacquard Textile Color Colorless Extender. Heat-set all fabrics that have been treated with GAC 900 fabric/textile medium by ironing on the reverse side of the fabric for about three to five minutes or run them through the clothes dryer set on high for 40 to 50 minutes.
Selecting your Fabric
The fabric you select for textile painting projects should, in most cases, be made from plant-based, natural fibers. Natural fibers are more absorbent and let the paint and water penetrate the fibers instead of just holding on the surface.
You can buy fabric from your local fabric store as well as online. If the fabric isn't already prepared for painting you should prewash it in hot water with a detergent that is scent-free and has no fabric softener in it.
There are many techniques to apply your paint to fabric, but I recommend direct painting to begin with. The two pillows above use direct painting of acrylic paints with fabric medium on canvas (daisies on the left) and silk broadcloth (heart-shaped motif on the right). Simply draw the design on the fabric and choose your colors. These hand-painted pillows are directly painted on unstretched fabric that has been laid on a muslin drop cloth. A muslin drop cloth will help absorb some of the moisture from the painting.
Related articles