Home
/
Projects with Fabric
/ DIY Fabric Covered Notebooks
Home
|
Beading & Jewelry Making
|
Clay Basics
|
Paper Crafts
|
Home Decor
|
Projects with Fabric
|
Easy Crafts For Kids
|
Arts & Crafts Ideas
DIY: Fabric Covered Notebooks Made From Cardboard and Fabric Scraps
by Hollie Strack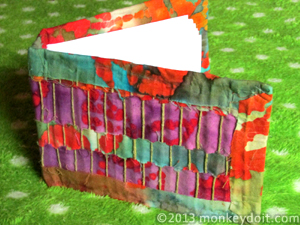 If you've been out hunting for the perfect journal for yourself or for a gift then you, like many others, have come to realization that journals are EXPENSIVE! You could end up paying upwards of $30 for a journal, and it won't even be customized in any way. Here is a very inexpensive way to create a personalized journal for just about anyone you know, including yourself.
Materials Needed to Make Your Fabric Covered Notebook From Cardboard and Fabric Scraps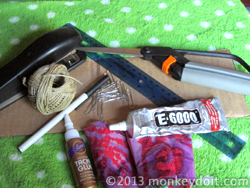 Cardboard (boxes work great)


Fabric scraps


Ruler


Epoxy 6000 or equivalent



Paper Clips


Pen or pencil


Scissors



Blank paper (For inside pages)
Step One:
Cut a piece of cardboard from your box, any size you wish. Score a ¾" to 1" binder area in the center of the cardboard. You can do so using a ruler, make sure it is wooden or metal though as plastic ones may not be able to crease the cardboard.
Step Two: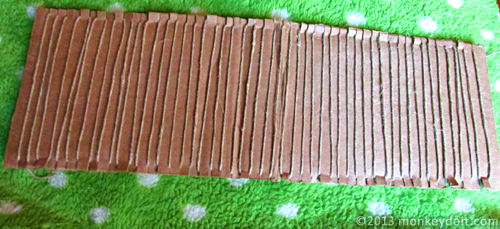 Next you need to create a cardboard "loom". If you don't know how to create a cardboard loom, don't worry you can get cardboard loom instructions here.
Step Three: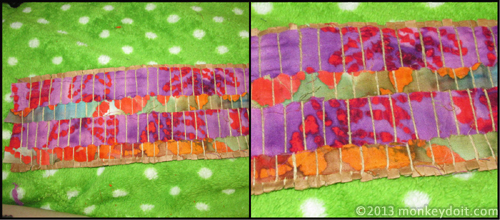 Next you will use your fabric strips to weave the loom. When you've finished weaving the loom, cut the excess from the fabric strips; Making them even with the cardboard.
Step Four: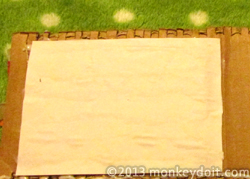 Glue decorative or plain paper to the insides of the cardboard.
Step 5: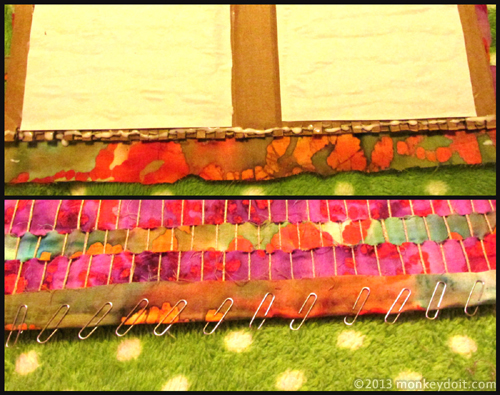 Apply the edging to the loom. Do this by gluing the fabric down to the edging of the loom; you want to use half of the fabric on each side. Place paper clips to the edging until as you move along. You want to keep these in place until it is completely dry to hold it in place. You can use bias tape to do so but it is not necessary. You can also use a piece of scrap fabric if you have enough.
Step 6: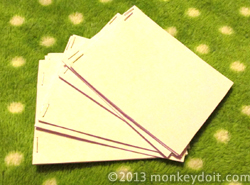 Cut and fold paper for inside of notebook in half. Create a few stacks of 6-8 pages. Make sure the pages are wide and tall enough to fit the book, but should be about ½" smaller than the size of the book; Staple twice along the fold of the stacks of paper.
Step 7: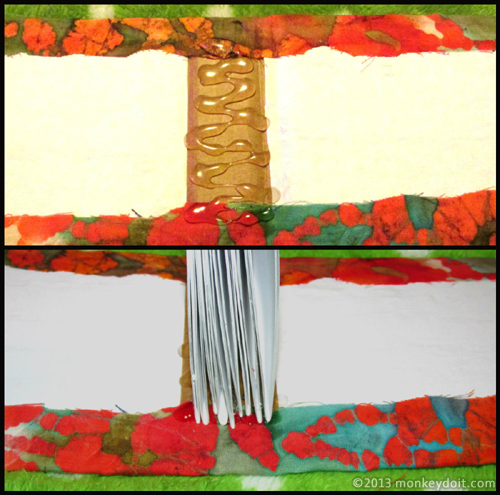 Bind the pages to your notebook. Put a line of epoxy on the inside binding of the cover and place the folded side of the pages onto the epoxy.
Step 8: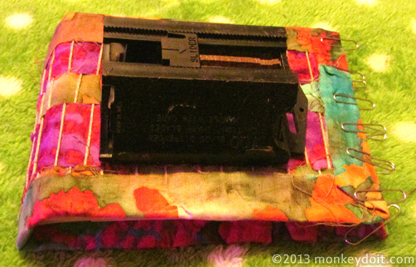 Fold the book in half and place heavy books or another heavy object on top of it. Let the epoxy dry for 24 hours. Then your notebook will be ready to use or gift!
Related Pages