Home
/
Fun Paper Crafts
/ make maps look old
Home
|
Beading & Jewelry Making
|
Clay Basics
|
Paper Crafts
|
Home Decor
|
Projects with Fabric
|
Easy Crafts For Kids
|
Arts & Crafts Ideas
Make Maps Look Old
This is a method for making maps look old using tea.
To make maps look old so they look antique, one technique I use is to spray maps with tea using a common household spray bottle.
What you need.
A map, tea (I used black tea), a common household spray bottle, a clean flat surface
Steps to Make Old Maps
Household spray bottle with Black Tea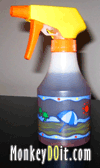 Step 1 - I prepared my working area by placing the map on top of a clean, flat surface. In my case, the picture frame I purchased for the map had a plastic laminate-like surface that worked perfectly for the project. I made a strong batch of black tea and then let it cool-down. I filled my spray bottle with the tea.
Step 2 - Once I placed the map on the flat surface, I began spraying the map with tea evenly across the entire surface soaking the map. It's recommended that soon after map is entirely wet that you gently lift it from the flat surface to ensure it does not stick. Repeatedly lifting and fanning the map will also speed-up the drying process. Once the map has dried you can apply more tea until the desired results are achieved. The example below shows what the map looks like after ten (10) applications.
| | |
| --- | --- |
| New Map; before tea application. | After tea application x 10 |
Allowing your map to wrinkle will create pools that take longer to dry. These areas will appear darker once the map is completely dry.
Make authentic-looking antique maps
If you really want to make your maps look authentic, try allowing the map to wrinkle in certain areas. Applying large quantities of tea to the wrinkled surface areas will create pools of tea that take longer to dry. This will make darker textures appear once it completely dries.
How to apply an even coat
If you want your map to stay a uniform shade, make sure you keep the map surface flat and use something like a squeegee to provide an even coat on each application. Excess tea build-up will make areas darker and make spots.
Tip: It's always a good idea to experiment with a test map if it's your first time. This will help you determine the amount of tea needed to produce the desired shade and/or texturing. Also, the map will have a tendency to wrinkle once wet. To avoid this simply provide some slight tension to both sides of the map to keep it flat.