Home
/
Make Handmade Jewelry
/ Attending Bead and Gem Shows
Attending Bead and Gem Shows: Buying Beads
by Jacqueline Gikow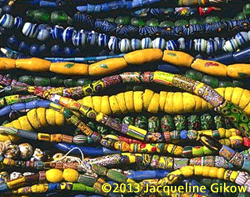 I recently attended the Whole Bead Show in New York City. It is one of the few large wholesale jewelry trade fairs held in the city. The Whole Bead Show brings a large number of well-known and new suppliers together and some of the newest jewelry products are highlighted here. You will find a huge range of striking and chic beads, stylish pewter, elegant pearls, handmade lampwork and jewelry trimmings displayed at the show. Ornaments, findings, as well as precious metal products are also presented during the event, which brings in huge visitor participation.
A show presents the best opportunities for jewelers attending to expand their networks as well. There are also hands-on beading classes offered for a reasonable fee. The three-day event is held at the Metropolitan Pavilion in New York two times a year - fall and spring.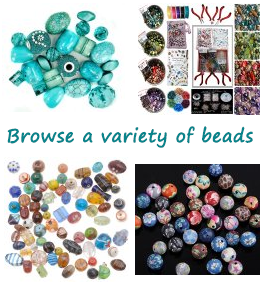 These trade shows can be a terrific way to see an incredible quantity of beads rather than have to picture them through a computer screen or catalog. After attending this show, I wanted to share a few do's and don'ts about buying beads that will make your attendance more pleasurable and helpful. One of the most important aspects of attending a bead show is to have fun. Below are some suggestions you might find helpful:
Check various vendor sites for discounts on the entry fee. Most shows charge buyers (that means you) to gain access to the show. Vendors' who sell at the show often offer a discount coupon to the show. Even the show promoters often provide discounts because it encourages more attendance.
If you are a professional jeweler, remember to bring your wholesale or tax Identification form with you. If you are a hobbiest, go with a professional friend. Most large bead shows have a wholesale section and you will need this to get in. In the wholesale-only section you will find astounding items at wonderful discounts, but you won't be admitted unless you bring the right identification.
Bring your business cards! At any trade show you'll meet a lot of people. Try to trade email, web site, and blog information as you network in addition to buying. Vendors like to see what you're making. You just never know whom you'll meet!
Walk through the show before you buy. It's important to get an overview of what is on hand and what the prices are before you start in on a buying craze. It's very easy to get inundated with so many options at your fingertips. If you sit down before you attend the show and make a list of your current needs, you will think about your projects in progress and visualize the beads and supplies you may require.
Establish a budget and leave your credit card at home. If you set a maximum spending limit beforehand, you'll think again before plunking down more than you can afford for that incredible strand of beads that call to you. In other words, make sure that you really want something that is beyond your reach. Bringing cash, rather than a credit card also makes it harder to resist the lure of overbuying, and it is the only way to stick to your budget. If you pay with cash, you will almost certainly be careful about what you buy.
Price before you buy, but buy when you love it. Frequently you'll find a number of vendors selling literally the same beads, so shop around before you toss down your money. On the other side of pricing before you buy is buying if you notice a selection of incredible beads. This is important because if you think they are that magnificent, there is a good probability that another beader will spot them as well and those beads could be gone if you decide you do want them later.
Last but not least, wear comfortable shoes. You'll probably be walking a lot depending on how large the show is.
Related articles
Make a Sterling Silver Roller-Printed Ring | Wire Jewelry | Precious Metal Clay for Jewelry | Make a Polymer Clay Necklace | Make Metallic Paper Beads