Home
/
Make Handmade Jewelry
/ Ginkgo Leaves Pendant
How To Make a Ginkgo Leaves Pendant
by Jacqueline Gikow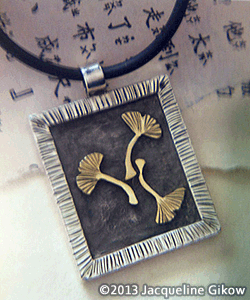 You can create jewelry from a variety of metal types including gold, copper, brass, and silver. This project is made from fine silver and yellow gold.
Stamping is the process of imparting a design into the metal using chasing or stamping tools. The process is very simple, but the results are awesome. The design end of the stamping tool is placed on the metal while you use a hammer to strike the other end of the tool. Experiment with scrap metal until you achieve the desired result.
A frame box with an oxidized backing sets off the tin gold ginkgo leaves that are cut from gold sheet metal soldered to the backing.
Materials and Supplies To Make a Ginkgo Leaves Pendant
Silver wire
, 2mm square
20-gauge Silver sheet

22-gauge 18-karat yellow gold sheet

3mm round silver tubing

Tracing paper, cardstock, pencil, scissors
Scribe
Jeweler's saw
with 8/0 blade
Filing block

Half-round file

Soldering supplies: hard, medium, and easy solder

Chasing tool
with straight-line pattern
Liver of sulfer

Mixing bowl
Tweezers
Buffing machine

Polishing cloth
Create a frame box using the 2mm square wire. Cut two top pieces of the frame, each measuring 7/8 inches long. Cut two side pieces of the frame, each measuring 1-inch long
File end of each wire piece to 45 degrees.
Fit a top piece and a sidepiece together. Make sure these form a 90-degree angle. Connect the side and top piece with hard solder. Repeat with the other two pieces.
Connect the last two corners with hard solder to form a perfect rectangle. Stamp parallel lines around the frame using the chasing tool.
Cut a piece of sterling sheet metal for the frame backing that measures 11/16 x 13/16 inches. Measure the inside measurements of the frame before you cut for accuracy. Solder the rectangle to the inside of the frame using medium solder. Pickle.
Ginkgo Leaves
Cut out the small ginkgo leaf. Make three leaves. Use the 22-gauge gold.
Stamp a design of radiating straight lines in the leaves using the chasing tool.
Finishing the Ginkgo Leaves Pendant
Place solder onto the back of the leaves and then solder the leaves onto the backing using easy solder.
Cut and solder a piece of 3mm round tubing for a bail onto the top of the pendant. Pickle.
Polish and clean pendant.
Add a patina to the pendant with liver of solution. Mix the solution in a bowl and drop the pendant into the solution. Allow the pendant to remain in the bowl until it turns dark gray or black. Remove it from the bowl with tweezers. Rinse and let dry.
Polish again to remove unwanted oxidation and to create a shine. Finish with a polishing cloth.
TIP

After adding the patina to your piece, finish the polishing procedure by rubbing it with a jewelry cloth. Keep a jewelry cloth handy and polish your jewelry frequently to keep it shiny.
Related articles
Precious Metal Clay Pendant | Make a Sterling Silver Roller-Printed Ring