Home
|
Beading & Jewelry Making
|
Clay Basics
|
Paper Crafts
|
Home Decor
|
Projects with Fabric
|
Easy Crafts For Kids
|
Arts & Crafts Ideas
Make Secret Messages with Invisible Ink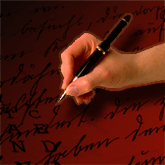 Two methods of making secret messages with invisible ink are explained below.
Method #1 - Dip a small brush, stick, or toothpick in milk. Write your message on a piece of paper. Rub ashes, makeup, or pencil shavings to reveal the secret message.
Method #2 - Take a white crayon or candle and write your message on a white piece of paper. Then paint the message with a dark color. The message will be revealed since the paint will not stick to the waxy writing of the crayon.
Invisible Ink Pens
A Fun Gift
Ink that is made of special high-brightness compounds that are invisible to the naked eye, but magically illuminate when exposed to a backlights. Conveniently located on the opposite end of the pen.


Protect Your Property
This invisible ink pen is used to detect, identify, and return stolen property in the event of a burglary. Each invisible ink marking pen contains invisible permanent ink. It's safe and reliable and easy to use. This products marks on all surfaces including glass, paper, wood, plastic and cloth and is invisible to the naked eye.
Best Reviews / Kids & Adults
Black light LED reveals your message. A hidden note compartment is revealed when you snap the pen apart it also holds the paper. It comes with 2 invisible UV ink markers.
---------------------
Just have to add my 2 cents here that just about all Spy Gear gets great reviews from kids! They LOVE it! Mine are 2 little girls, and they have gone crazy over theirs in the past.